Piers has hosted conferences, press events, product launches and awards ceremonies around the world for Rolls Royce, Axa, The Financial Times, Virgin, BMW, AET, Michelin, BSAVA and WSAVA – The World Veterinary Community, The Jelf Group, Deloitte and Touche and many many others.
He specialises in keeping the day on track, on time and upbeat. With many hours of live broadcasts he has yet to find a subject that he can't get up to speed on in minutes.
In the course of his facilitation and conference work, Piers has been trusted with internal and highly confidential, market sensitive information (including launches, product development, internal HR issues). This has either been via formal agreements or simply the trust that comes from working with someone who has been involved in this business for 15 years.
Bookings and enquiries
Please contact Clare Hazeldine on +44 7956 458939 or email her clare@clarehazeldine.com
This is just one minute and twenty five seconds from the hundreds of hours Piers has spent hosting conferences and running Q and A sessions…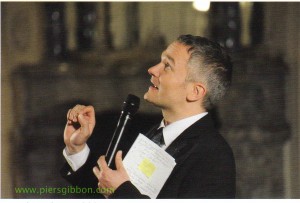 Piers at work.