Cannibals
Dining with Cannibals, directed by Osca Humphreys, is out on National Geographic Channel worldwide. It also went out as Search for The Living Cannibals, Eating with Cannibals and Cannibal Island.
In this film, Piers looks at one of mankinds ultimate taboos: cannibalism. He treks into the rain forest of Papua New Guinea to find tribe members who have eaten human flesh. He meets with members of the once-feared Biami tribe and witnesses their ritual techniques.
Here is a showreel for Cannibals:
And here is all of the photos from the shoot – set to some amazing singing from the Biami people…on YouTube:
Here is Piers interviewed by Stephen Colbert about the film on 'The Colbert Report':
Here is a review of Cannibals in German for TV Digital.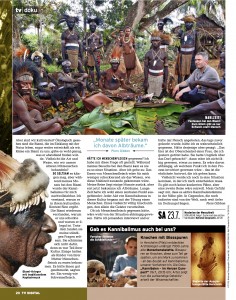 Credits
Director/Producer Osca Humphreys
Presenter Piers Gibbon
Executive Producer Ed Crick
Producer Kirsty Wilson
Camera David Niblock
Sound Douglas Dreger
Anthropological Consultant Daniel Shaw
Safety Consultancy Remote Trauma
Medic Paul Callicot
Fixer John Sullivan
Special thanks to the Samo and Biami people of the Western Province
And another for Horzu Wissen:
FAQ
Q: That leather bag you carry around – where did you get it?
A: I bought it from Saddleback Leather and it is one of the best things I have ever spent money on. Their bags *are* expensive – but I wish I'd bought one years ago and not wasted my money buying cheaper ones that have broken and been thrown away and are currently rotting in landfill…
I've since been in touch with the good people at Saddleback and I was not surprised to learn that as well as making their products as sturdy and serviceable as possible – they also support a range of lovely charitable enterprises. I am happy to support them – go on over to their website and buy yourself something that lasts.