The Witch Doctor Will See You Now
Piers Gibbon's latest series, The Witch Doctor Will See You Now is out on National Geographic Channel around the world. It's about tribal medicines and alternative healthcare available outside the western industrialised world.
Piers takes two patients with different conditions to different parts of the world, travelling to to Hong Kong, Peru, Cameroon and India to see if other ways of healing can help them when western medicine has failed.
The four episodes are called:
Snake Blood Remedy – Hong Kong
Hallucinogenic Healing – Peru
Goat Blood Bath – Cameroon
Cow Urine Cure – India
Recent Witch Doctor press:
Please click on the press cutting to read.
In the UK, The Sunday Times and The Mail on Sunday Choice for UK Fri 9pm NatGeo describes the show as having "brutal treatments…interesting results":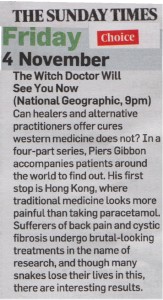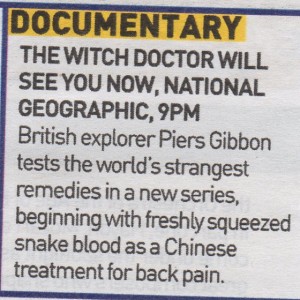 Sarah Broad and Robb Leach in Broadcast magazine describe Witch Doctor as "TV Gold!" with "great comedy moments":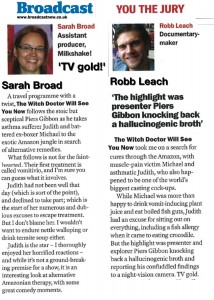 From the tabloids, the Sunday Sport describes Piers as brave: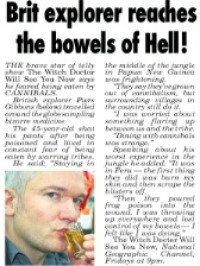 Online, Witch Doctor had decent coverage on Sky Guide: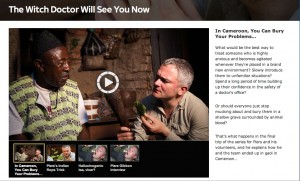 And What Satellite and Digital TV magazine warned Piers not to lose his head: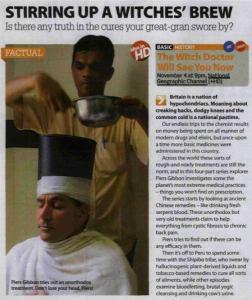 April McIntyre at Monsters and Critics.com thinks Piers has "massive British cojones":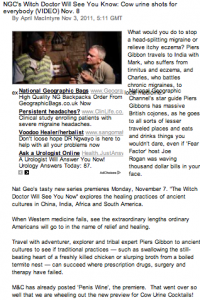 And Heat magazine thought the programme was "random or what":

It was also Total TVs pick of the day:

The Australian reaction to Witch Doctors was a mixed bag. On Triple J Radio on Wednesday Nov 2, Tom Ballard and Alex Dyson described the show as amazing on Breakfast with Tom and Alex.
And a Zoo choice: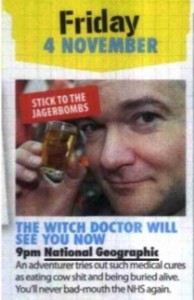 And here is a really interesting interview on Australian Radio 2UE with a real live doctor… made into a video with some photos from the shoots in India, Cameroon, Peru and Hong Kong.
The Weekend Australian magazine described Witch Doctor as "confronting" and a "fantastic, fast paced programme."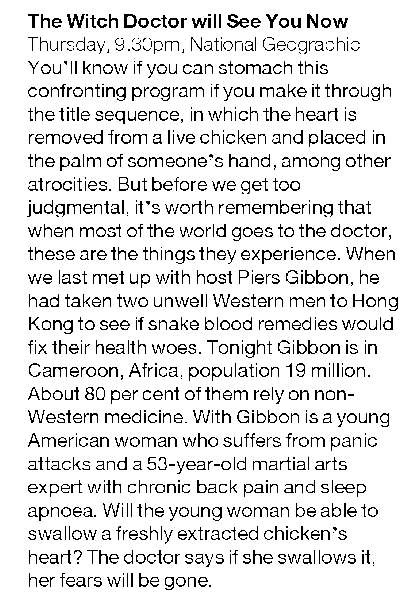 Pam Brown at The West Australian says "this show is a lot more interesting than the title would suggest"!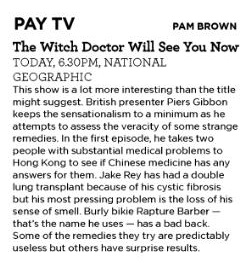 While Bridget McManus at The Age asks whether Nat Geo would promote psuedoscience.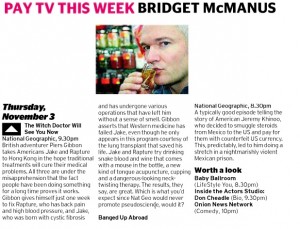 Brad Newsome at The Age describes the show as "a roiling mass of logical fallacies":
And The Age concludes that Piers is "shameless". That'll be why it was pick of the night twice!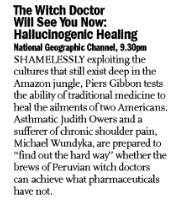 TV Fix review: Mark Jeffery describes the show as "fascinating".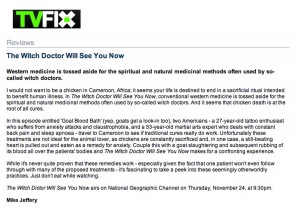 For Witch Doctor updates, including the videos, schedules, behind the scenes out takes, bloopers and fancy photos check out theFacebook fanpage.
But if you are not on Facebook The Witch Doctor Will See You Now schedules and updates are available from your local National Geographic website…
The Witch Doctor Will See You Now National Geographic USA
The Witch Doctor Will See You Now National Geographic UK
The Witch Doctor Will See You Now National Geographic Australia
And here is the trailer on NatGeo Australia:
Producer/Directors: Roger Power, Hannah Griffiths,
Osca Humphreys, Ruth Newman
Assitant Directors: Catherine Hoskin, Chris Taylor
Editors: Alison Hunt, Keren Aarons, George Taylor, Whetham Allpress
Production Executive: Georgina Surtees
Casting Producer: George Hughes
Production Coordinator: Owen Gower
Research: Naomi Banat
Camera: Jason Riddell, Virendra Khanna
Sound: Dominic Yip, Mario Rivas, Darshan Singh
Series Producer: Carolyn Payne
Executives: Ed Crick, Mike Griffiths
For National Geographic: Michael Welsh, Steve Burns
Contact National Geographic Channel to say you liked it… or wanted to be a medical volunteer if they ever make more episodes of The Witch Doctor Will See You Now.
FAQ
Q:That tongue acupuncture/ayahusaca/cow urine – does it actually work and will it help my condition?
A
In this series we show an honest account of what happened to our two volunteers and Piers when they tried these things. But this is not a scientific experiment. There's certainly some interesting results but a TV series like this cannot prove or disprove anything. A really great place to start if you are thinking about this whole area is Bad Science by Ben Goldacre. Read his book.